From last couple of days I am not able to see any of blogspot blogs. First I thought that the problem was with blogger(usual updates) so out of curiosity I posted about it in digital point forum, but the fellow members checked and told that it looked all fine to them. Then I thought that the problem might be with my network setting, but that was also not the case, now from another thread I came to know I am not alone and that it seems that the Indian Government might have asked some ISPs in India to ban the blogger.com.
So I decided to do a little checking myself. And surprisingly when I tried to ping the blogs I could not reach the site.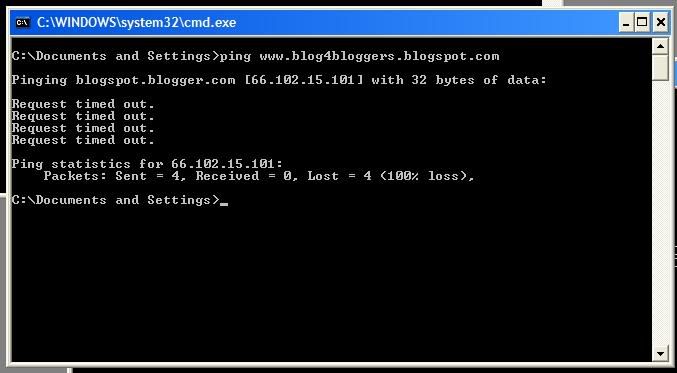 click image to enlarge
next I did a trace route to the blog and as expected the site was unreachable.
click image to enlarge (some details blurred for security reasons)
And blogger.com is not the only site that got banned by ISP but geocities and typepad blogs are also not accessible at the moment.
IF BloggerCollectives groups is to be believed that this banning order came from non-other then President's office. One of the members wrote that:



Today, I received a call from AirTel, and they confirmed that enquiries to their Delhi head office had revealed that they indeed had received instructions to block certain sites. When I asked where the directive to block sites came from, I was told that it came from the President's Office. The caller did not have any information on the specific sites that were to be blocked.



I wonder what might have caused this action. Some says that the reason behind this is because of the blogs that are bad-mouthing Indian Government, while other believe that its just a temporary issue. Whatever the case many, the fact is that Indian bloggers are stuck at the moment. Lets see how this thing affects Google's adsense. If a blogger is targeting only U.S visitors then it would surely benefit him but on the other hand if all those adsense publishers cannot access their blogs then its possible that Google's earning would also go down.
And all this happened the day before I received my adsense PIN :(
ps: I am posting this with my editor so lets hope that it gets through the ban successfully. (keeping fingers crossed)
Technorati Tags : blogger, banned, blogspot, isp, president, blog, india, indian government