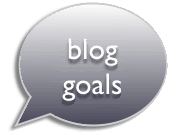 Do you like to set a target for yourself or do you prefer to take every day just as it comes. While living without a goal can be fun, hassle-free and without any guilty feeling many people prefer to have a goal in life. And they don't stop just there. They breakup that goal into many small goals - goal for the year, goal for the month and even goal for the week. They claim that it keeps them organized and helps in reaching that bigger goal without actually thinking about it all the time.
After reading some inspirational books and articles I have decided to give this 'goal thing' a shot. And the timing could not have been better, here I got free from long vacations and there Darren Rowse started a new Group writing project - Blog Goals, where he suggests all his readers to "making some of your blogging goals public as a way of adding accountability and motivation to reach them".
Now what should be my goal and what should be the duration? Money seems to be a nice motivating factor... so.. how about getting that magical '4 figure per month' earning from Adsense within next 12 months. Sound great.. but like all big boys suggests, one should not blog just for money. So lets modify this goal into something more 'reader oriented'. I am sure Darren would be glad to know that I am putting my readers before money :-) . So lets see.. if I wish to earn 1K a month then I should be getting around... (top secret mathematical calculations here) .. 10K visitors daily.
This is where I got headache, went back, checked my earnings, read some forums, re-calculated the 'top secret data'. Man.. this figure is really scary. This is next to impossible, even ProBlogger.net gets around 4K/day visitors. I must have made some mistake. I need to do more. Ok, what other options do I have - start some more blogs/sites, get a day job, write ebooks a la Joel Comm :-)
I guess I would give this blog 12 months before trying any other options. Many bloggers have said in past that most of the blogs do no survive more then first few months. So I have decided to give this blog 12 months and even if I don't reach my goal I won't kill it before next june 2007. So lets get back to the task on hand. Yes goals!.
Now that Big Goal of 1K a month is decided, lets break it into following smaller goals:
Get More traffic. I am sure most of the readers can break this into even more smaller goals like: Get more backlinks (submit articles, comments and more), write more posts, do research on the topic, tag posts etc.
Organize blog. I still remember one of Darren's post where he talks about how he like to visit 'about' page and how important is that page for a blog. There are many such small changes that I need to make on this blog to build loyal readers.
Build relationship. Just like any community even in blogosphere you need friends, and I plan to make some real good friends here. This is more to do with make blogging fun and exciting and less to do with money.
Learn something everyday. There is so much useful information on the net. People share so many interesting tips on their blogs and in forums. I wish to learn at least one new thing everyday from these people but at the same time I would try not to get addicted ;-)
Unlearn everyday. I am going to maintain a record of my blog's performance and would keep adding something new and removing something old that don't seem to work. Not only the blog's content but its design and layout would be constantly changing and evolving.
If I complete above 5 sub-goals then I am sure I should be able to achieve my Big Blog Goal for next 12 months.
To keep you updated this is what I am going to do. I am going to post my Adsense earning stats(updated weekly) in the top right corner of the blog for everyone to see.
wish me luck guys!
ps: Before posting this post I updated this blog's 'About' section with the help of 'expand' trick. I am so sincere :-)