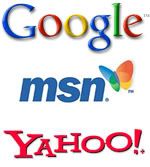 Even when "Google Finance" is not able to make its mark on the internet, there is a strong rumor among bloggers that google is going to launch "Google Health" - a health related search engine that would give competition to Yahoo Health and MSN Health.
Google Health interface would have six categories - treatment, Tests/diagnosis, symptoms, Causes/risk factors, alternative medicine and "from medical authorities".
It is going to further divide the readers into two sub-groups - "For Patients" and "For health professionals"
Go on, enter "cold" in google search box, see the top results and then come back here and tell me what u think about it.
You may also find these post interesting
Song of Money