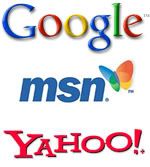 Yahoo continues to give tough competition to Google. Yahoo's
new platform will add a range of features not currently available to marketers running their campaigns with Yahoo Search Marketing and its distribution network. These include keyword grouping enhancements, IP-based mapping features to support geo-targeting, better scheduling capabilities, the expression of business goals such as cost-per-acquisition, and indirect conversion tracking. It expects to launch this in third quarter.

With the new service, marketers will be able to see IP-based maps that can associate neighborhoods to zip codes. That will assist in local search marketing, a growing sector of paid search that is stretching into the billions of dollars.

Ad campaigns can be "paused," the report said, with no loss of ranking information. That can be done with a single ad or a group of ads. Also, a slider bar on the pricing page will let marketers view their likely number of clicks given a particular keyword bid.